Baileys Chocolate Orange S'mores martini cocktail
Baileys Chocolate Orange S'mores martini cocktail
A sophisticated twist on a campfire favourite.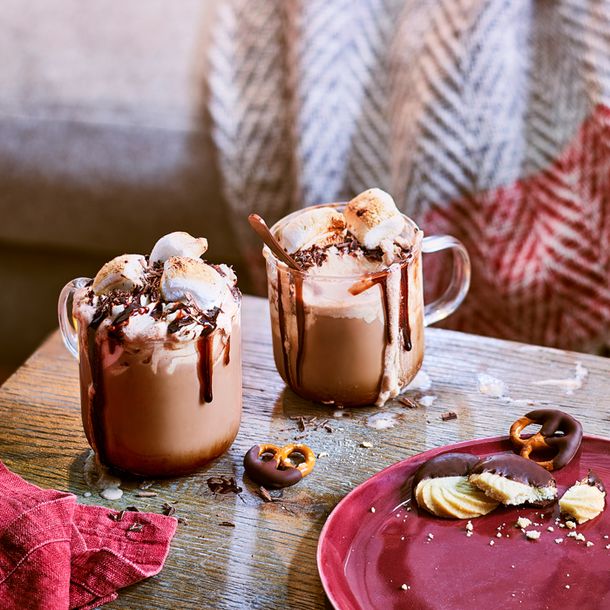 Ingredients
1barmelted dark chocolate

2tbspfinely crushed oaty biscuits

1tbsplightly crushed orange pearl sugar

25mlVodka

3stripsorange zest

30mlDouble Cream

1largetasting marshmallow

1sprinkleedible gold leaf

1largeIce cubes

1sprigfresh mint
10 units of alcohol per serve
Equipment
2 x Plates

Chilled glass

Orange peeler

Cocktail shaker

Strainer

Spoon
Method
Step 1

Pour melted chocolate onto one plate. Add the crushed biscuits and pearl sugar onto another. Dip the rim of a chilled glass into the melted chocolate, and then carefully straight into the biscuits and sugar. Let the glass set in the fridge.

Step 2

Put the ice, Baileys, vodka, orange peel, and mint (optional) into the cocktail shaker. Shake for 30 seconds and then strain into the glass.

Step 3

Carefully pour the double cream onto the top of the cocktail over the back of a spoon.

Step 4

Thread a large marshmallow onto a wooden skewer and carefully toast it over a flame. Top the cocktail with the toasted marshmallow and sprinkle edible gold leaf to garnish.
Chocolate

Baileys

Mint

Cocktail

Orange

Baileys Original Irish Cream

Martini

S'mores